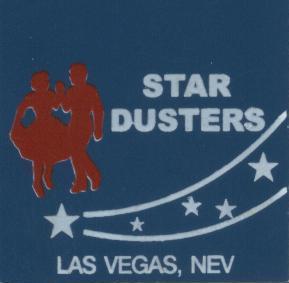 .

We would like to thank, all the Dancers that came to our last Sweetheart Ball Dance. We had seven squares and a very good dance even with the rainy night . Dee Dee Dougherty and

Ron Hartzell made it a fun and enjoyable
dance. Our Last King & Queen was John Cerevolo & Rita Dorn. I

love to see the surprise on their faces!
Yes, the Stardusters are closing as

of Feb 28, 2019. It has been a sad
experience and very hard to make.

This decision to close, the club opened
before 1960. Ron was a big part of

our club and we had a very hard time
We appreciate Vern Vernazzaro and Ned Newberg for helping us with

our dances.
Ned Newberg will continue the Thursday night dances for the members and anyone wanting to come to dance, it will be mainstream and plus from 6:30 to 8:30 pm at the Meadows

Mobile Home Park.
Thank you again for all your support

and help with our dances.
Rosemary (702) 348-4906

  President             Rosemary Tangren       (702) 348-4906
  Vice President     David Drennon              (775) 224-4177
  Treasurer             Sandi Hapke                 (702) 496-0672
  Secretary             Holly Hansen                (702) 755-9529